Sguardi sonori 2010-2011
Immagine: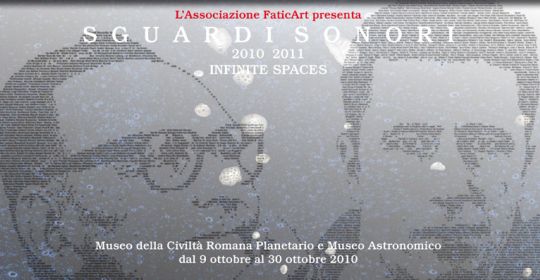 Infinite Spaces - Festival of media and time based art
09/10 - 30/10/2010
Museo della Civiltà Romana
Sguardi Sonori 2010, now at ist V edition, is a Festival of media and time based art created by FaticArt Onlus, with 90 artists coming from 20 different countries.
The sections of this year's edition are: CONTEMPORARY ART (a project by VisualArt and DigitalArt), VIDEO ART and SOUND ART, ELECTRONIC MUSIC, SOUND IMPROVISATION, LIVE PERFORMANCE. The festival is held from October 2010 to March 2011.
The festival kicks off with the exhibition "Infinite Spaces" at the Museo della Civiltà Roma, Planetario and Museo Astronomico di Roma on October 9, 2010 at 5.00 pm featuring Ennio Morricone, Roberto Vittori and Gualtiero Marchesi.
The edition of 2010 will be mainly devoted to the celebration and preparation of the INFINITE SPACES event that will take place in March 2011 on the occasion of the last flight of the Space Shuttle. It will be a live concert where the astronauts will play with the greatest artists connected from 5 continents (among them Ennio Morricone with his " Concerto for astronaut and orchestra" for Universal Peace & Justice ): a great message of peace and brotherhood to all humanity.
PERFORMING ARTISTS:
VISUAL ART
Alessandro Palmigiani Alessandro Petrolati Andrea Neri Anna Finetti Architecture and Vision Britta & Ron Helbig Carlo Fatigoni Caterina Davinio Chiara Passa Christine Kertz Florindo Rilli Gian Luca Proietti Giosetta Fioroni Gualtiero Marchesi Haidji I Santini Del Prete Judson Wright Laura Troiano Lucia Cadeddu Matteo Sanna Nicola Mette Pasquale Napolitano Pastorello Riccardo Vezzosi Rob King Rosita Rossi Vittore Baroni
SOUND ART
Alessandro Petrolati Alex Savelli Annie Wan Antonio Cavadini Budhaditya Chattopadhyay Claudio Parodi Danio Catanuto Debra Petrovich Elias Xolocotzin Elizabeth A. Miklavcic Federico Maragoni Gabriele Quirici Herve Constant Ignazio Lago Titti Pritti I Santini Del Prete João Ricardo Len Sasso Lorenzo Senni Luca Sigurtà Manami N Marko Batista Mauro Sambo Neil Leonard Nicola Giunta Osvaldo Cibils Deeproject Phivos-Angelos Kollias Pietro Riparbelli Roberto Fega Rudi Punzo Scott F. Hall Stefano Vinciarelli Timo Kahlen Vito Maria Laforgia W.H.Y Yves Leduc
VIDEO ART
Alessandro Deflorio AnDrea Pagnes Verena Stenke Angelo Cruciani Antonella Pintus aka Anna Bolena Artemiy Artemiev Caterina Davinio Charlie Williams Danio Catanuto Elizabeth A. Miklavcic Emilio Morandi Eti Esther Nair Eva Olgiati Francesca Fini Giosetta Fioroni Gruppo Sinestetico Herve Constant I Santini Del Prete Irina Gabiani Larry Caveney Laura Troiano Lemeh42 Leonardo Nobili Marco Ferrazza Marco Fracassa Marilena Vita Mauro Sambo Miri Nishri Paolo Bonfiglio Pasquale Napolitano Rafiqul Shuvo Reynold Reynolds Rosa Menkman Sergio Maltagliati Thorsten Fleisch Tonino Casula Ventsislav Zankov Vienne Chan Yves Leduc Zenzero
LIVE PERFORMANCE
Dino Viani Federico Maragoni Andrea Neri Alessandro Pintus I Santini Del Prete Morena Tamborrino GReSAS-group Susana Pilar Delahante Matienzo Lorenzo Ceccotti Taxonomy Marco Cardini Alessandro Petrolati Antonio De Luca James Dashow Deeproject LABORATORIO di DANZA "ATTRAVERSO IL BUTOH"
Information
Place
Museo della Civiltà Romana
Opening hours
October 9-30, 2010: Opening hours of the Museum
Vernissage: October 9, 2010: 5.00 pm.
Finissage: October 30, 2010: 4.00 pm.
Entrance ticket
Free Admission to the events on payment of the entrance ticket of the Museum.
Information
Faticart: Tel. +39 333 4824310
Type
Event|Festivals and Reviews
E-mail
faticarte@gmail.com
Organization
Associazione Culturale FaticArt
Eventi correlati
Currently there are no ongoing activities.
There are no planned activities.
There are no archived activities.